RETURN TO ALL ARTICLES POSTED

Living Apart – Grounds for Divorce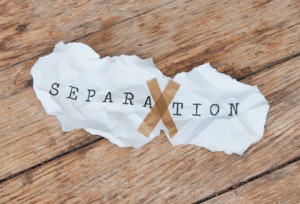 In Singapore, couples applying for divorce have to prove that the marriage has broken down irretrievably, and in most cases these would constitute adultery, unreasonable behaviour or desertion.
However, if none of the above reasons are applicable reasons for dissolving the marriage, and neither party is responsible for the breakdown of the marriage, then separation is another avenue that can be explored.
A spouse filing for divorce needs to show that:
the couple have lived apart for a continuous period of at least 3 years prior to filing for a writ of divorce and that the other party consents to the divorce
the couple have lived apart continuously for more than 4 years prior to filing for the writ for divorce, in which case consent of the other party is not required
The separation period must be continuous and is nullified should the couple cohabit for 6 months or more during the separation period.
Separation
There are a few manners of separation that the court will consider as valid and viable before approving divorce proceedings:
informal separation
separation agreement
judgement of judicial separation
Informal Separation
An informal separation is when a couple are living apart voluntarily and is using that as grounds for divorce. In these cases, physical separation would be required:
living in 2 different households
living under one roof but clearly and specifically do not have sexual relations nor any marital engagements
do not carry out any typical spousal duties
separation is by choice and not out of necessity
Separation Agreement
A couple can apply for a deed of separation which states clearly terms and conditions during the period of separation. These terms could relate to matters like child custody or division of assets. Couples have a choice of engaging a lawyer to draft the deed of separation, or agree on a private arrangement. Private arrangements can either be a written document composed by both parties, or a verbal agreement.
Judgement of Judicial Separation
Another option for a separating couple would be to apply for a judgement of judicial separation. However, to do so the couple must prove irretrievable breakdown of the marriage either through adultery, desertion or unreasonable behaviour.
SUBMIT YOUR DETAILS AND REQUIREMENTS IN THE FORM TO ARRANGE FOR A CONSULTATION WITH A DIVORCE LAWYER.