Judicial Separation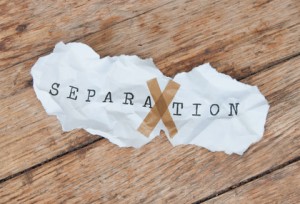 In an instance where a married couple do not wish to continue living together in a matrimonial home yet do not wish to pursue divorce proceedings, they have legal recourse in Singapore to apply to the family court for a Judicial Separation.
A Judicial Separation is a divorce from bed and board, which means the couple ceases their relationship with each other as a married couple and will henceforth live permanently apart from each other. There are various reasons the couple may not want to proceed with a divorce, ranging from religious commitments, moral grounds, responsibility to children or societal norms.
The decree of a Judicial Separation is a court order that is similar to a divorce, whereby the couple is legally separated but not divorced.
A couple can only apply for a Judicial Separation if they have fulfilled the law's requirements that they have been married for a period of no less than 3 years.
However, there are exceptions to this rule that the law will allow for, such as in cases where a spouse is engaged in illegal activities or adultery, or a case of domestic violence where the party has then become unbearable to live with. These situations provide sufficient and reasonable grounds for application for an early separation, where in most cases the court would approve such applications.
Similar to divorce proceedings, the court has the same jurisdiction to issue orders on the division of matrimonial assets and properties, as well as the provisions for custody and maintenance of any children in the marriage.
Once the couple has been granted a Judicial Separation, they are free from any marital obligations to each other and are free to live separately from each other. However, a Judicial Separation is not a divorce and in the eyes of the law the couple are still legally married. Thus a judgement of Judicial Separation does not permit either party to remarry.
SUBMIT YOUR DETAILS AND REQUIREMENTS IN THE FORM TO ARRANGE FOR A CONSULTATION WITH A DIVORCE LAWYER.
Click here to read more about Deed of Separation.