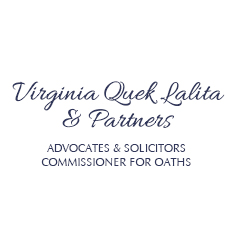 Virginia Quek Lalita & Partners
Address:
1 Coleman Street #06-08 The Adelphi Singapore 179803
Telephone:
Fax:
6337 0979
Website:
Language(s) Spoken
English, Mandarin, Bahasa Melayu, Tamil, Hainanese, Cantonese
Company Profile
The Team
Ms Seenivasan Lalita
Has been in practice since 1987 and has vast experience in Family matters.
Ms Virginia Quek
Has been in practice since 1995 and also has vast experience in handling Family issues & matters.
Areas of Specialty
Uncontested Divorce
Contested Divorce
Leave to file for divorce
Deed of separation
Pre-nuptial agreements
Cross- border custody dispute
Custody issues between couple
Pre& Post divorce custody issues
Guardianship of infants application by parents & grandparents
Guardianship of illegitimate child.
Judicial separation
Adoption
Mediation
Ancillary Matters ( including children custody, Assets Division & Maintenance)
Nullity of Marriage
Variation of Orders of Court
Division of property between married couples where there is no divorce proceedings
Personal Protection Orders
Maintenance Orders
Unmarried Parents rights
Family and Domestic Violence
Syariah Court matters
Foreign divorce order Custody disputes including countries such as France, USA, Australia India and Malaysia.
Grounds for Divorce
Parties are able to obtain divorce on the grounds of unreasonable behaviour, adultery, separation (3 years or 4 years immediately preceding the date of filing of the writ) and desertion.
Who can apply?
Parties have to be married for at least 3 years unless permission from court is granted, before divorce proceedings may be commenced and one party must be domiciled in Singapore or habitually resident in Singapore for a period of 3 years preceding commencement of proceedings.
Foreign Divorce Orders, Custody disputes
We have dealt with matters that deal with financial relief in Singapore after an overseas divorce.
HK d/o KS v SS a/l AS [2015] SGHCF 5
Novel case that dealt with the new s121B of the Women's Charter – Application for financial relief after overseas divorce.
Your Spouse abducts your children to a foreign country
Singapore is a member of the Hague Convention for International Abduction. Thus, if the country to which the children were abducted is also a member, then the children will be stopped by the airport authorities and be sent back to the home country. However, if the country is not a member, you must file an urgent application for an order to produce the children under the Guardianship of infants Act.
FAMILY LAW PRACTITIONERS
Ms Seenivasan Lalita

Partner

Ms Virginia Quek

Partner
AREAS OF MATRIMONIAL LAW PRACTICE
Annulment

Separation

Uncontested Divorce

Contested Divorce

Muslim Divorce

Cross Jurisdiction Divorce

Division of Matrimonial Assets

Maintenance for Spouse and Child

Child Custody, Care & Control/Access

Domestic Violence & Personal Protection Order

Wills

Power of Attorney/Lasting Power of Attorney

Prenuptial and Postnuptial Agreements