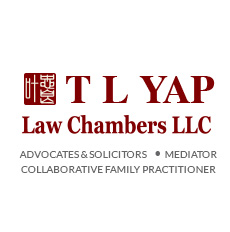 Address:
8 Eu Tong Sen Street #17-83 The Central Singapore 059818
Telephone:
Fax:
6532 3787
Website:
Language(s) Spoken
English, Mandarin
Company Profile
OUR LAW FIRM

Messrs T L Yap Law Chambers LLC is a boutique law firm providing specialised legal services in the area of family and divorce law. The Firm handles uncontested to highly contested divorces, financial settlements and asset division, maintenance of spouse, custody care and control disputes, access disputes, relocation, child support obligations, cross-border jurisdictional and forum disputes and family violence matters.
Our approach is to provide practical solutions and sensitive client care. We listen carefully to your problems and ask the right questions to understand your specific needs. We will explain the legal and practical options available to you and the strategies for achieving the best possible outcome in your circumstance. Where children are involved, we bear in mind that their welfare and interests are of paramount consideration.
We believe in helping the client resolve their disputes amicably where possible and discuss and explain to the client alternate dispute resolution options such as mediation or collaborative family practice.
OUR LAWYERS
Yap Teong Liang was called to the Bar of England and Wales (Middle Temple) in 1991 and admitted as an Advocate & Solicitor of the Supreme Court of Singapore in June 1992. After being admitted to the Singapore Bar, he joined a well-known law firm where he became a partner and headed the matrimonial department in that firm from January 1996 to May 1997 when he left to become one of the founding partners of another law firm. On 10th June 2002, after 10 years of experience behind him, he set up his own boutique law firm specialising in Family Law.
Teong Liang has extensive experience in the area of Family Law where he specialises in. He is no stranger to representing high net worth and high profile clients, handling cases involving foreign marriages, cross border international jurisdictional and forum issues (Australia, China, Hong Kong, France, Germany, United Kingdom, United States of America), child abduction and relocation cases, complex child custody, care and control and access cases, child maintenance, maintenance for the wife, division of matrimonial assets and family violence.
He is currently Co-Chair of the Family Law Practice Committee of the Law Society of Singapore and Chair of the Family Law Section and Executive Member of LAWASIA. Teong Liang is an Associate Mediator with the Singapore Mediation Centre and an Accredited Mediator with the Family Justice Courts and Regent's University, UK. In September 2015, Teong Liang completed a 50 hour advanced training with special emphasis in Cross-Border Family Mediation involving disputes related to international child abduction under The Hague Convention, relocation, custody and access issues. He is on the panel of Cross-Border Family Mediators of Mediation bei Internationalen Kindschaftskonflikten (MiKK), Berlin, Germany and the Cross-Border Family Mediator's Network.
He is appointed by the Chief Justice as a member of the Rules Committee under Section 139 of the Women's Charter (Cap 353) and was recently appointed onto the panel of Child Representatives by the Family Justice Courts.
Tan Hui Qing graduated from the National University of Singapore in 2009 and was called to the Singapore Bar in 2010.
She started her legal practice in commercial and civil litigation, with particular emphasis on insurance litigation and construction law. In the field of construction law, she has assisted in drafting complex construction contracts, advisory work and has been involved in adjudications under the Construction and Building Security of Payment Act (Cap. 30B). As for insurance litigation, she has represented large multi-national insurance companies in defending million-dollar claims.
Hui Qing eventually started getting involved in Family Law after the boutique firm she was then practicing in established a Family Law department. In the course of practicing Family Law, Hui Qing has dealt with divorces, annulments, adoptions, custody issues and financial issues such as the division of matrimonial assets and maintenance. These include complex cases which involved expatriate parties, relocation and foreign assets. She has also advised and drafted Separation Deeds and agreements relating to matrimonial proceedings and financial issues, represented clients in trials involving family violence and maintenance matters. Hui Qing has been involved in appeals in the High Court and the Court of Appeal involving children's issues, division of matrimonial assets and maintenance.
Apart from litigation, the Family Law practice has allowed Hui Qing to hone her mediation skills as cases that go through the Family Justice Courts system more often than not are resolved through the process of mediation at the Family Resolution Centre and the Child Focused Resolution Centre.
Hui Qing is also an accredited Associate Mediator and a Collaborative Family Practitioner with the Singapore Mediation Centre.
FAMILY LAW PRACTITIONERS
Yap Teong Liang (Mr)

Director

Tan Hui Qing (Ms)

Senior Legal Associate
AREAS OF MATRIMONIAL LAW PRACTICE
Annulment

Separation

Uncontested Divorce

Contested Divorce

Cross Jurisdiction Divorce

Division of Matrimonial Assets

Maintenance for Spouse and Child

Child Custody, Care & Control/Access

Domestic Violence & Personal Protection Order

Wills

Prenuptial and Postnuptial Agreements