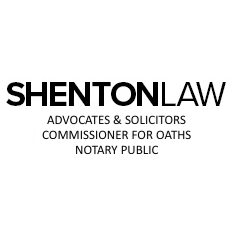 Address:
200 Cantonment Road #14-03 Southpoint Singapore 089763
Telephone:
Fax:
6225 7889
Website:
Language(s) Spoken
English, Mandarin, Bahasa Melayu, Hokkien
Company Profile
Shenton Law Practice LLP is headed by Mr David Lee and Mr Martin De Cruz who were both called to the Singapore Bar more than 20 years ago. Shenton Law provides legal advice in various areas of practice including
Building and Construction
Commercial
Corporate
Criminal Litigation
Employment
Family & Matrimonial
Immigration
Incorporation of Companies & Corporate Secretarial Services
Probate & Estate matters
Property Development and Conveyance
Wills
Mr David Lee, a Notary Public and Commissioner for Oaths, is the managing partner of Shenton Law Practice LLP.  He graduated with a LLB (Hons) degree from the National University of Singapore in 1992 and was admitted to the Singapore Bar in 1993. He is both a Fellow of the Singapore Institute of Arbitrators and the Chartered Institute of Arbitrators and is an Associate Mediator at the Singapore Mediation Centre. He has a LLM (Hons) Degree from Pantheon-Assas University (Paris II) and a MSc (Applied Economics) Degree from the Singapore Management University. He is a member of the Law Society of Singapore, Singapore Academy of Law, International Bar Association and American Bar Association.
Mr David Lee's practice is solely in the family and matrimonial areas and has acted in both contested and uncontested divorces, with contested assets located in multi-jurisdictions.
For enquiries, please contact him at 6225-8880.
FAMILY LAW PRACTITIONERS
Mr David Lee

Managing Partner
AREAS OF MATRIMONIAL LAW PRACTICE
Annulment

Separation

Uncontested Divorce

Contested Divorce

Division of Matrimonial Assets

Maintenance for Spouse and Child

Child Custody, Care & Control/Access

Domestic Violence & Personal Protection Order

Wills

Power of Attorney/Lasting Power of Attorney
LEGAL FEES
Please contact us to enquire