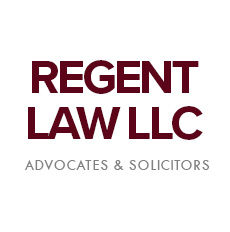 Address:
111 North Bridge Road #10-01 Peninsula Plaza Singapore 179098
Telephone:
Fax:
6536 4100
Website:
Language(s) Spoken
English, Mandarin, Bahasa Melayu, Tamil
Company Profile
Regent Law LLC, as part of its pro bono initiative, offers discounted rates for uncontested divorce proceedings.
The firm, well known for its criminal, family and commercial litigation work, has 3 lawyers and more than 10 staff.  You can be assured that your matter will be in capable hands.
Visit our website, www.regentlaw.com.sg/divorce for more details.
FAMILY LAW PRACTITIONERS
Mr Mathew Kurian

Managing Director
AREAS OF MATRIMONIAL LAW PRACTICE
Annulment

Separation

Uncontested Divorce

Wills

Power of Attorney/Lasting Power of Attorney

Prenuptial and Postnuptial Agreements
LEGAL FEES
Please contact us to enquire