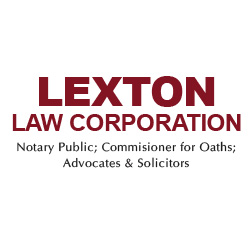 Address:
10 Anson Road #24-01 International Plaza Singapore 079903
Telephone:
Fax:
6220 2283
Website:
Language(s) Spoken
English, Mandarin, Cantonese, Hokkien, Teochew
Company Profile
Established since 2004, Lexton Law Corporation prides itself on being a personal yet energetic boutique Singapore law corporation. Our distinct mark is that our clients are our partners, and we have a treasured long-term and personal relationship with many. It is a commitment that we honour everyday in ensuring our clients' successes and that their interests are protected.
OUR DIRECTORS
The Directors of Lexton Law Corporation are Ms Stephanie Hong, Mr Edwin Sim and Ms Wu Xiaowen. All honours graduates of the National University of Singapore, the Directors are experienced solicitors and advocates called to and practising at the Bar in Singapore, each with almost 2 decades experience.
FAMILY LAW
We believe in working towards a holistic solution for parties in family disputes and in minimising the disruption and pain of parties and especially, the children.
It is our aim not just to be lawyers but to assist parties in achieving a solution to the difficulties faced when a relationship ends.
Our directors Ms Stephanie Hong and Ms Wu Xiaowen have handled the various aspects of family law for almost 18 years which includes :
Annulment
Separation
Divorce (Simplified, uncontested and contested)
Child Custody
Division of Matrimonial Assets
Maintenance for Spouse and Child
Interim applications for Maintenance, Custody, Care and Control
Guardianship
Domestic Violence
Please do contact us for a discussion if you have any queries.   If you prefer to drop us an email and would like to contact either of our directors directly, our contact details are as follows:
Ms Stephanie Hong – stefhong@lextonlaw.com.sg
Ms Wu Xiaowen – xiaowen@lextonlaw.com.sg
For more information on our firm and services, please visit our website.
FAMILY LAW PRACTITIONERS
Stephanie Hong

Director

Wu Xiaowen

Director
AREAS OF MATRIMONIAL LAW PRACTICE
Annulment

Separation

Uncontested Divorce

Contested Divorce

Division of Matrimonial Assets

Maintenance for Spouse and Child

Child Custody, Care & Control/Access

Domestic Violence & Personal Protection Order

Wills

Power of Attorney/Lasting Power of Attorney

Prenuptial and Postnuptial Agreements
LEGAL FEES
Kindly contact us to enquire