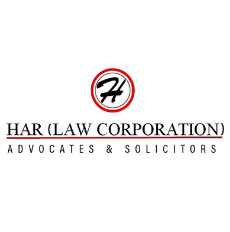 Address:
133 New Bridge Road #09-02 Chinatown Point Singapore 059413
Telephone:
Fax:
6533 7719
Website:
Language(s) Spoken
English, Mandarin, Bahasa Melayu, Tamil, Punjabi, Hokkien
Company Profile
Har Law Corporation has more than ten years of experience in divorce and family law, offering knowledgeable and personalized service to their clients to provide professional legal solutions.
Their area of expertise includes:
Divorce and Annulment
Separation
Matrimonial and financial disputes
Personal Protection and Exclusion Applications for domestic violence
Guardianship, Custody, Care and Control
Variation and/or Amendment of Orders of Court
Adoption
Har Law Corporation provides first consultation free to ensure that you are well informed before you make the decision of engaging a lawyer.
Send your enquiry now.
FAMILY LAW PRACTITIONERS
Mr Harbans Singh

Director

Mr Harpal Singh Bajaj

Associate
AREAS OF MATRIMONIAL LAW PRACTICE
Annulment

Separation

Uncontested Divorce

Contested Divorce

Muslim Divorce

Division of Matrimonial Assets

Maintenance for Spouse and Child

Child Custody, Care & Control/Access

Domestic Violence & Personal Protection Order

Adoption

Wills

Power of Attorney/Lasting Power of Attorney

Prenuptial and Postnuptial Agreements

Mental Capacity Act
LEGAL FEES
Please contact us to enquire.