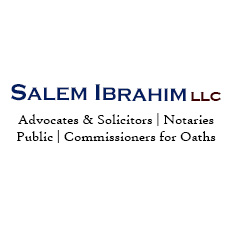 Address:
79 Robinson Road #16-06 CPF Building Singapore 068897
Telephone:
Fax:
6226 0988
Website:
Language(s) Spoken
English, Mandarin, Bahasa Melayu
Company Profile
Salem Ibrahim LLC took over the firm of Salem Ibrahim & Partners which started in 1997.
Our founder, Mr Salem Ibrahim, is the son of a doctor but was inspired to read law by his elder brother, Ahmad Ibrahim, Singapore's first Attorney-General.  A senior lawyer at the Singapore Bar, he is also a Barrister of England and Wales.  He is experienced in all types of cases – financial disputes with assets ranging from multi-millions to zero, international jurisdiction disputes, child abduction, child relocation, family violence, Syariah law as well as family trusts and inheritance.
Whilst we are often chosen for technically complex family law cases, often with an international element, the spectrum of cases we take on is wide.  Our clients come from all walks of life and diverse backgrounds.
We are a force in court advocacy but do not lose sight of the personal nature of family law disputes. Our clients are treated with sensitivity, respect and compassion.
Niche areas of practice include drafting pre-marital and post-marital agreements, and Syariah law.
FAMILY LAW PRACTITIONERS
Mr Salem Ibrahim

Principal

Ms Iman Ibrahim

Director

Ms Angeline Koh

Associate

Ms Kulvinder Kaur

Associate
AREAS OF MATRIMONIAL LAW PRACTICE
Annulment

Separation

Uncontested Divorce

Contested Divorce

Muslim Divorce

Cross Jurisdiction Divorce

Division of Matrimonial Assets

Maintenance for Spouse and Child

Child Custody, Care & Control/Access

Domestic Violence & Personal Protection Order

Wills

Power of Attorney/Lasting Power of Attorney

Prenuptial and Postnuptial Agreements
LEGAL FEES
Please contact us to enquire